The 2023 General Assembly results are out!

We wholeheartedly welcome the newly elected and re-elected board members to the team of the EMAlumni Association Board:
Melina Pele
Roisin Webb
Helene Bauwens
Theodora Ralli
Nona Mohammadi
We are excited to embark in a new journey with you!
Read more in the 2023 GA Report at the bottom of the page.
About the General Assembly:
General Assemblies are a central element in the life of the EMAlumni Association. The main purpose of the General Assembly (GA) is to review the Board's activity and financial report, to adopt changes to the statute and to have a general discussion on aims and directions of the Association.
The General Assembly is the highest governing body of the association and a democratic moment in the life of the association. It decides on major changes related to the functioning of the association. 
The General Assemblies are run in accordance with article 13 of the statutes of the EMAlumni Association.  The GA consists of all full members (Supportive Members contributing members who paid the 20 euros fee). It takes place once a year and only full members can vote and be elected as board members.
Read more about the GA in the

Statute.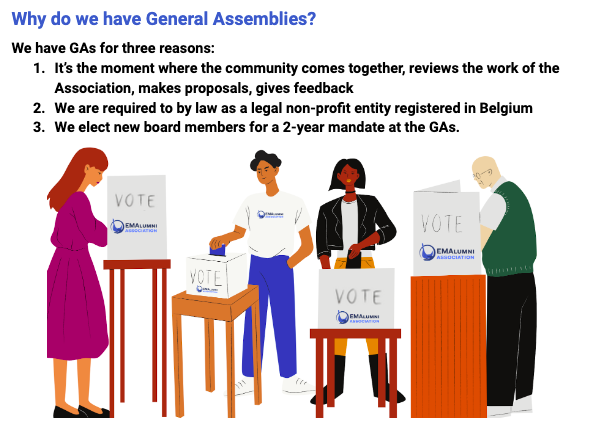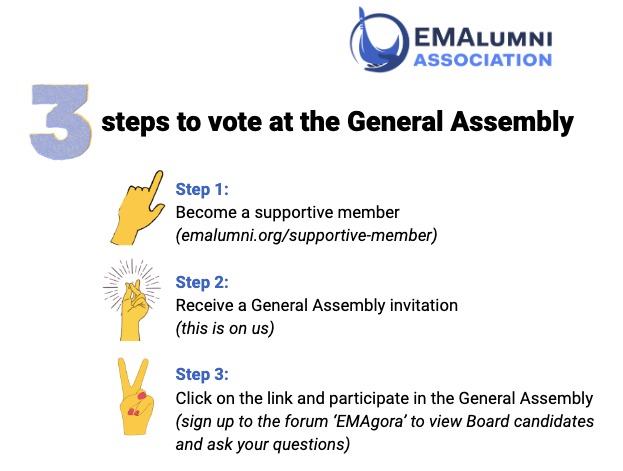 Q&A about the General Assembly
How can Alumni participate in the General Assembly?
Alumni who paid their yearly 20 euros contribution (free to pay more) to the association can vote and be elected during the General Assembly.
What does it mean to be part of the board? What activities and workload am I expected to deliver?
Being a board member means participating to the management and operational organ of the Association, discussing how to implement our goals and sometimes leading a project (webinars, communication strategies, career day, etc). It is a two years mandate. Usually, board members meet virtually once a month for one hour. Examples of activities that new board members may coordinate are projects/strategy to increase Alumni engagement, social media, skills seminar in Venice and fundraising strategies. The amount of work is decided by free will and consensus, understanding that it is voluntary position. 
See information on previous General Assemblies