We are supported by the Global Campus of Human Rights and are part of the Global Campus Alumni (GCA) network together with the alumni of our sister programmes. 
We are the community of alumni of the European Masters in Human Rights and Democratisation (aka EMA) offered by the Global Campus for Human Rights.
In 2010, alumni of the EMA programme came together to build and foster a community that would connect the alumni of the programme for social and professional reasons. The Association was set up as a non-profit NGO, headquartered first in Venice and then moved to Brussels, and started carrying out activities for the EMAlumni community.
We believe in maintaining a strong network of human rights professionals and human rights defenders as a means to achieve the protection and promotion of human rights. Besides, anyone who has done the EMA programme will know how special the experience of studying together on the Lido is – we also believe in the strengthening of this connection, we keep it alive! 
The EMAlumni Association is currently working on the creation of its History Book. If you have stories and pictures to share from any period of the Association's history, from 2010 till today, send us an email!
Our Mission
To bring together alumni of the EMA programme to create a community of human rights supporters where sharing and connection happens be it for professional or personal reasons.
The EMAlumni aims to create a solid community of graduates of the European Master's Degree in Human Rights Master and Democratisation.
The aims of the Association are to promote and reinforce contacts between its members, at a professional as well as at an informal level, and to promote human rights and democracy in Europe and throughout the world.
The community we are co-creating is one of peer learning, professional development and social bonds.
Our vision is a vibrant network of graduates of the EMA programme who stay in close contact to each other, to their Master Programme and universities and to the Alumni Association and who, through this contact, engage in a mutual exchange of knowledge, experience and support and on human rights initiatives.
The ultimate aim of this community is be contribute to the strengthening of the promotion of human rights.
Throughout the year, as the EMAlumni Association we different activities and projects to nurture the community and make it an exciting and vibrant space for alumni to connect. All our activities are alumni-led.
We are always open to new ideas and to cooperation with different actors, so if you have an idea you'd like to pitch, you can do so here.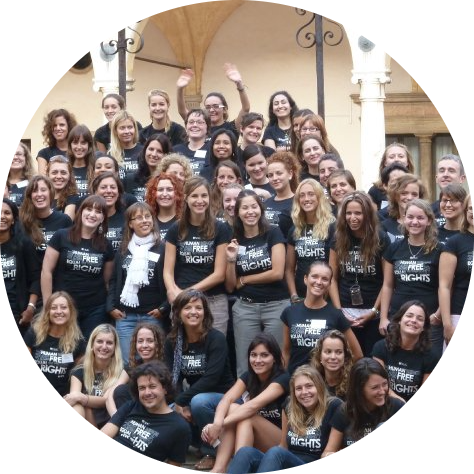 Community building
Being an EMAlum is being part of a community of people who share the EMA experience. We support that community by creating moments to meet and form bonds.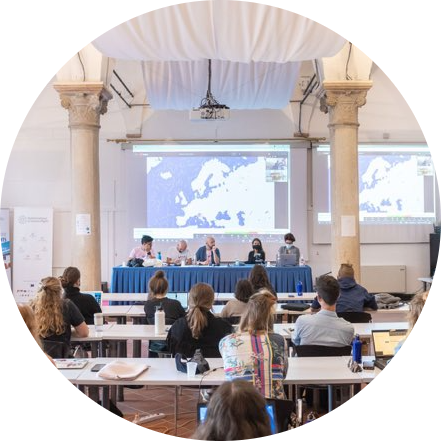 Professional development
We promote peer-learning for EMAlumi's prefessional growth and for that of human rights defenders through seminars, webinars, articles and conferences.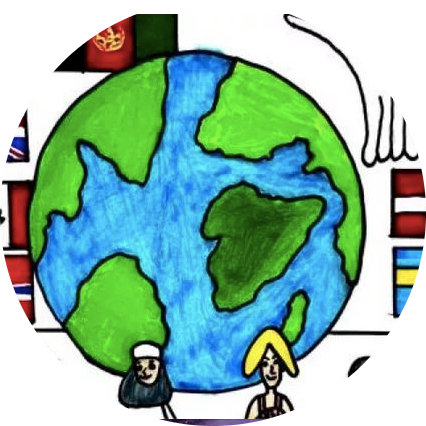 Promotion of human right and democracy
Human rights and democracy is at the core of our identity. We promote these through campaigns, events and by mobilising volunteers.
OUR GOVERNANCE & STRUCTURE
The EMAlumni Association is an NGO based in Belgium (ASBL/VZW). Our structure, as prescribed by our Statutes, is made up of a President, and a maximum of 8 Board Members who are elected by supportive members at the yearly General Assembly.
The Board is the engine of the EMAlumni Association that drives the network of almost 2.500 EMAlumni. It coordinates activities, working groups and projects which all EMAlumni are invited to take part in.
We also have a Secretary General who is employed by the Association with a part-time contract. The Secretary General is an EMAlum and their work is vital to keep the Association running.
Board member
Florence Carrot is a humanitarian worker who graduated from the EMA in 2014. She has been involved in protection and community-based approaches for the last 8 years in conflict-affected environments (Afghanistan, DRC, Iraq, Niger …) and other contexts (Peru, India, UK etc.) with various humanitarian and human rights organisations (INGOs, UNHCR). Her work primarily involves addressing gender-based violence, responding to issues related to statelessness, protection analysis, and psychosocial support. She recently joined the ICRC as a field protection delegate where she develops further capacities in IHL and believes the humanitarian sector definitely needs more EMA graduates 🙂
Board member
Filipe graduated from EMA in 2016. He started his career in human rights as a casework intern for an Irish NGO (MRCI), aiming for social change, empowerment and inclusion of migrants and refugees in Ireland. He is currently based in the Netherlands where he used to work as a communication specialist for a Dutch organisation focused on the social inclusion of refugees. Nowadays, Filipe works as a Talent Acquisition for a tech Australian company in Amsterdam. In 2015, he also published a paper at the University of Coimbra about the social and historical impact of homophobia in Portugal and Brazil. The same year, he was a guest teacher in Portugal for a Secondary school to lecture about youth violence issues and human rights.
He joined the EMAlumni association as a board member in 2022 to support some of our essential projects for our associates, such as Career Day and the promotion of our EMA ambassadors.
Board member
Camille graduated from the Master in 2016, after which she moved to Brussels where she started working in EU policy and advocacy. After several years working on children's rights, Camille moved to her current position at COFACE Families Europe where she advocates for the rights of persons with disabilities and gender equality in EU policies. Working on equality files at the EU level allows her to pursue her passion for advocating for diversity and inclusion while nerdingly exploring all the secrets of the EU policy making processes.
Camille joined the board to help grow a community of strong human rights advocate and foster more exchanges and support among alumni. She will works on strengthening the alumni hubs in different cities and support the alumni webinars (also on a top secret project- sign up below to the newsletter to find out).
Board member
Nona is a psychologist with broad experience in the field of displacement and migration, both clinically and through a variety of experiences in research, the European Commission, and her current position in the Mental Health and Psychosocial Support Section at IOM.
Her primary focus is on vulnerable groups, particularly refugees, minorities, victims of trafficking and exploitation, and survivors of gender-based violence.
The intersections between mental health and conflict-affected societies are of particular concern to her. She believes that political activism, human rights work, and transitional justice can only be sustainable if psychological aspects are also considered.